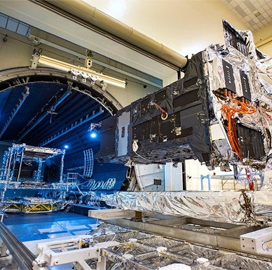 Lockheed Martin and the U.S. Space Force have commenced thermal vacuum, or TVAC, tests of a new satellite designed to deliver early missile warning via infrared surveillance technology.
The Space-Based Infrared System Geosynchronous Earth Orbit-5, or SBIRS GEO-5, satellite began to undergo TVAC tests on April 16, marking a major milestone for the USSF initiative, Los Angeles Air Force Base said Friday.
The TVAC tests put the satellite in a simulated space environment with operational hot and cold temperatures. Space and Missile Systems Center, now part of USSF, worked with Lockheed to begin these tests that aim to confirm the satellite's compliance with temperature survivability standards.
Both GEO-5 and GEO-6 build on Lockheed's LM 2100 spacecraft designed to boost a satellite's resiliency during missions.
The government plans to launch GEO-5 next year. The SBIRS constellation features both GEO and Highly Elliptical Orbit satellites.