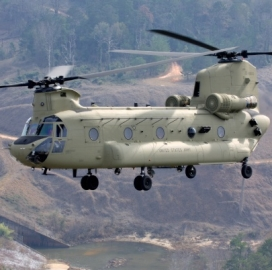 Honeywell and the U.S. Army have agreed to test-fly a Chinook helicopter with a new variant of the company's T55 engine to demonstrate the motor's power output and fuel consumption.
The 6,000-horespower machine is designed to generate 25 percent more power and consume 10 percent less fuel than the current model, Honeywell said Thursday.
The company will install and test the engine on the service branch's CH-47 heavy-lift helicopter at Fort Eustis in Newport News, Va. Army Combat Capabilities Development Command will supervise the processes.
"Honeywell has spent years designing and developing the T55-GA-714C engine as part of our commitment to push the T55's power beyond the needs of the Chinook helicopter," said Dave Marinick, president of engines and power systems at Honeywell's aerospace segment.
The maximum power capacity of the company's engine technology has almost tripled from 2,050 shaft horsepower to 6K shaft horsepower since the initial delivery to the Army in 1961.