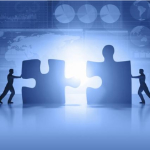 A study of mergers and acquisitions conducted by researchers at George Mason University and Iowa State University shows that companies get more value return from M&A deals that help drive efficiency, the Washington Business Journal reported Wednesday.
"What we heard over and over from executives and from financial institutions is buy an adjacent quantity, buy a capability you don"™t have, buy a customer that you don"™t have access to," said Brett Josephson, an assistant professor of marketing at GMU"™s Center for Government Contracting. "But we actually found the biggest bang for the buck was buying for efficiency, not buying for new access."
Josephson said they studied more than 600 M&As and analyzed them against the movement of the companies"™ share prices on and a day after a transaction"™s announcement to determine which deals generated the most market return. They also interviewed federal contracting officials and corporate executives for the study.